PRE-QUALIFICATION NO: REPOA/Q-01/GDS & NCS/2023
REPOA is an independent, not for profit research organization established in 1994. REPOA's mission is to engage in policy research and dialogue that promote socio-economic transformation for inclusive development. The organization has three main objectives: to conduct and disseminate evidence-based research outputs to inform national policies and strategies; to strengthen the capacity of researchers and research users to enhance evidence-informed policymaking; and to contribute valuable inputs to enhance strategic engagement of development partners, international agencies, CSOs, and other non-state actors in the national development process.
REPOA invites applications for prequalification from interested suppliers (including current suppliers) for the supply of Goods and Provision of Non- Consultancy Services for the period between January 1, 2023, to December 31, 2024, as listed in Table 1.
TABLE 1: SUPPLY OF GOODS AND PROVISION OF NON- CONSULTANCY SERVICES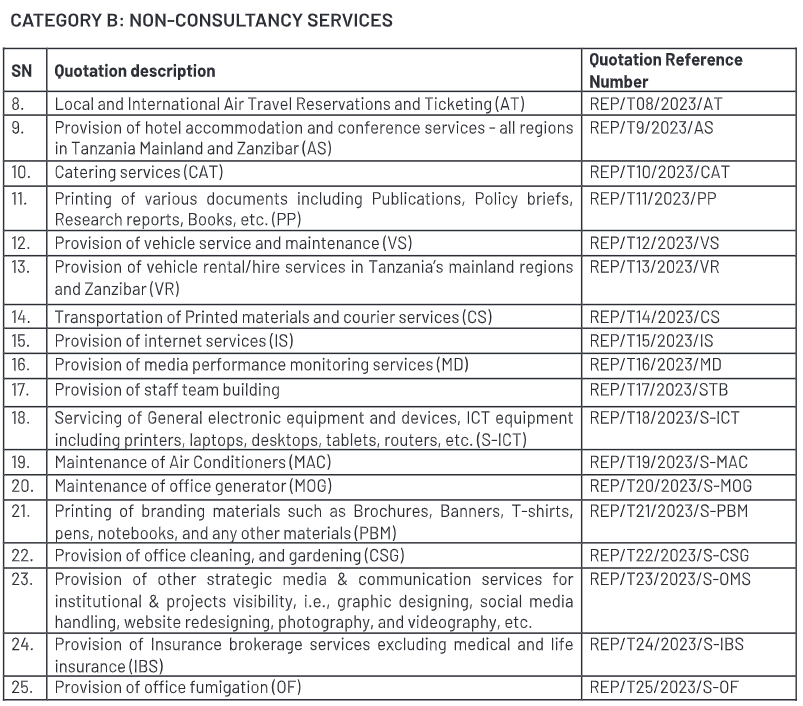 Interested candidates may obtain pre-qualification/registration of supplier's documents from at REPOA Dar es Salaam office during working hours: Monday to Friday (8.00AM – 1.00PM).
The pre-qualification/registration of the supplier's documents are available on Wednesday, the 22nd of February 2023 from 12:00 NOON at a non-refundable fee of TZS. 100,000.00 (Tanzania Shillings One Hundred Thousand Only) or any other freely convertible currency per Lot. Payments will be made in cash and obtain an official receipt(s).
All applications shall be submitted at REPOA's Tender Box in the Dar es Salaam office at or before 20th March 2023 at 1200 NOON. Bids will be opened immediately thereafter in the presence of the bidders who choose to attend or their representatives at the REPOA, Dar es Salaam Conference Room.
Late submitted pre-qualification/registration of supplier's documents, incomplete docu­ments, electronic documents, and documents not opened at the pre-qualification opening ceremony shall not be accepted for evaluation irrespective of the circumstances.
All applications should be addressed to:
The Executive Director,
REPOA,
Plot 157 Mgombani / REPOA Street,
Regent Estate,
P.O. Box 33223,
Dar es Salaam
Tel: +255 22 2700083
REPOA reserves the right to accept or reject any or all bids and is not bound to give any reasons for its decision.