CRDB
CRDB Bank Pic is an African Bank and Leading Financial Service Provider in Tanzania with
current presence in Tanzania and Burundi and soon to open in DRC Congo. The Bank was
established in 1996 and was listed in the Dar-es-salaam stock Exchange (DSE) in June 2019.
CRDB Bank PLC is currently inviting online applications from all eligible, competent and
experienced suppliers to apply for pre-qualification for supply of goods, works and services of
different categories as tabulated in item 7 of this advertisement.
Applications will be conducted according to CRDB Bank Pc Procurement Policies and
Procedures. Only shortlisted suppliers will be eligible for invitation to quote under competitive
procedures each time when needed.
This is online supplier pre-qualification whereby suppliers shall submit their applications online
through CRB website: www.crdbbank.co.tz
Overview of selection criteria shall be as follows:-
A. Legal Compliance
i. Submission of all registration certificates from relevant authority
ii. Submission of valid business, Certificate of Incorporation or extract from registrar
iii. Submission of TIN & VAT (for registered)
iv. Submission of current Tax clearance certificate
V. Current physical location with valid lease agreement or title deed
vi. Submission of certified litigation history certificate
vi. Submission of all other required information and attachments required during application
B. Company capabilities, competence and eligibility
i. Show evidence of at least THREE (3) years' experience in the relevant field
ii. Submission of CV and copies of certificates for key personnel and technical staff
iii. Submit at least THREE (3) years of latest AUDITED financial statements
iv. Demonstrate capabilities in terms of equipment, skills and technology as per requirement in
respective tender category
v. Submission of Company profile
C. Sanction
i. Submission of correct information of Directors and Shareholders and their scanned copies of
Identity Cards (ID) e.g., Driving license, Voter ID, Traveling Passport, National ID
ii. And submission of all other required information and attachments required during application.
Only eligible and qualified suppliers with demonstrative experience, compliance with the above
application criteria and excellent track record in similar assignments will be considered for this prequalification. All existing suppliers and service providers currently operating with CRDB Bank are
also required to apply.
The list of pre-qualification services is here under, you may apply for single applications or
more. Evaluations of supplier pre-qualification will be on an application basis.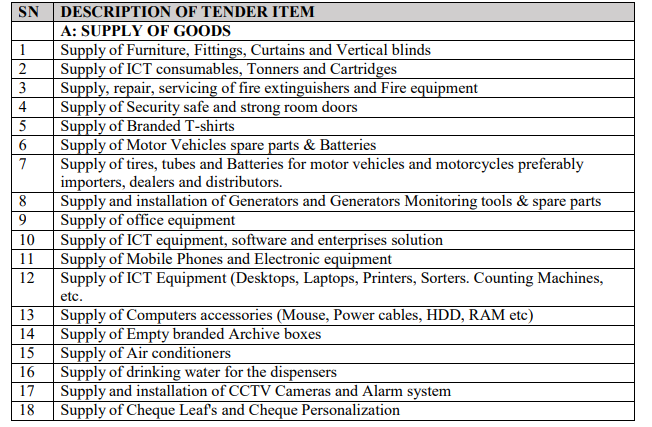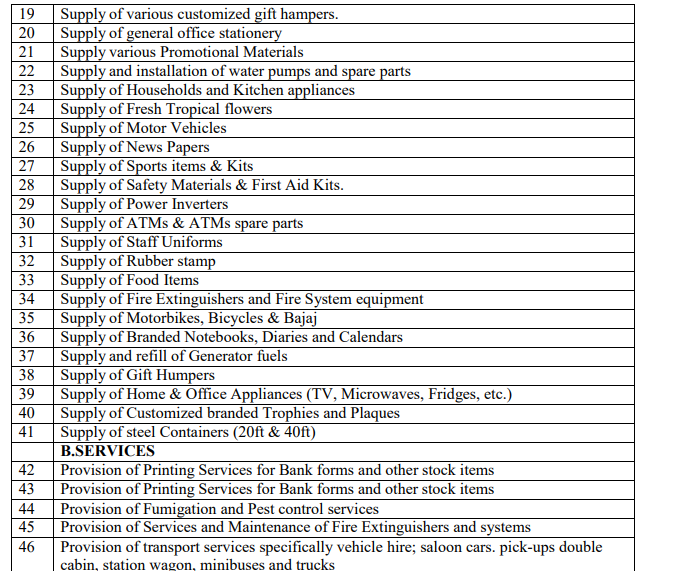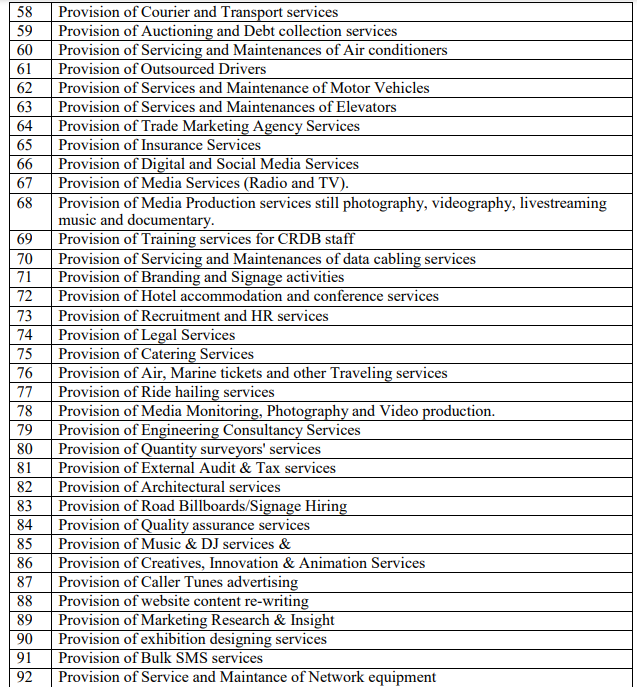 8 CRDB Bank Pic reserves the right to request submission of additional information from
prospective applicants. Kindly note that all filled prequalification application documents should be
clear, readable and uploaded in the online pre-qualification system.
Pre-qualification forms not filled out completely and submitted in the prescribed manner will not
be considered. All documents that form part of the pre-qualification must be attached accordingly.
Supplier must declare any conflict of interest in relation to any member of CRDB Bank staff.
CRDB Bank Pic will not procure goods or services from suppliers where the employees are
conflicted and have not declared conflict of interest.
The applicant shall bear all costs associated with the preparation and submission of the online
pre-qualification application and CRDB Bank Pic will not in any case be responsible and liable for
the costs incurred.
CRDB Bank Plc will not be enforceable to disclose reasons for disqualifying any supplier after
publication and closure of the online pre – qualification exercise.
All information given in writing to or shared online with the applicant in connection with this
pre-qualification is to be treated as strictly confidential. The applicant shall not share or invoke
such information to any third party without the prior written approval of CRDB Bank PIc. This
obligation shall continue after the pre-qualification exercise has been completed whether or not the
supplier is pre-qualified.
Prospective applicants must have undertaken successful supply and delivery of goods/services
to institutions of similar size and complexity.
They must also demonstrate the willingness and commitment to meet the pre-qualification criteria.
Completion of the pre-qualification documents includes forms and documents required of
prospective suppliers/service providers to be considered for pre-qualification. Prospective suppliers
must submit all the information herein requested and any applicant who does not meet all the
relevant mandatory requirements will be automatically disqualified by the system.
Interested and qualified applicants should send completed pre-qualification application and
other required information as per system requirement before the communicated deadline.
Whenever there is a need, CRDB Bank Plc will carry out a due diligence exercise for the
shortlisted prequalified suppliers which will also include a site visit whenever required.
Any clarity may be required from the application of the pre-qualification process should be
directed to;
Email: info@crdbbank.co.tz
Copy to: procurementdesk@crdbbank.co.tz
Phone Numbers: 0222197700; 0800008000; 0714197700; 0755197700;
All applications must be submitted online through CRDB website: www.crdbbank.co.tz
Deadline of submission of the application(s) is Monday, 31st May 2023 at 1700 hours.
Thereafter, the application system will automatically close.
Pre-qualification application shall be submitted only online through the
CRB website: www.crdbbank.co.tz
The Managing Director
CRDB Headquarters,
Plot No.25 & 26 Ally Hassan Mwinyi Road &
Plot No.21 Barrack Obama Road
P.O. Box 268, 11101 Dares Salaam, Tanzania
Tel: +255 (0) 22 211 7441 – 7
Fax: +255 (0) 22 211 6714
Email: info@crdbbank.co.tz
Website: http://www.crdbbank.co.tz