Bulyanhulu Gold Mine Limited (BGML) is a fully owned subsidiary of Twiga Minerals Corporation. Bulyanhulu Gold Mine Site is located 45km south of Lake Victoria, in the Kahama District of Shinyanga Region, northern Tanzania. There are road accesses to the mine from Mwanza, 127km to the northeast, and from the town of Kahama, 84km to the south.
BGML, therefore, invites "Expressions of Interest" from reputable, experienced, and certified companies interested in pre-qualifying for inclusion in a tender process for the provision of the below goods/service packages.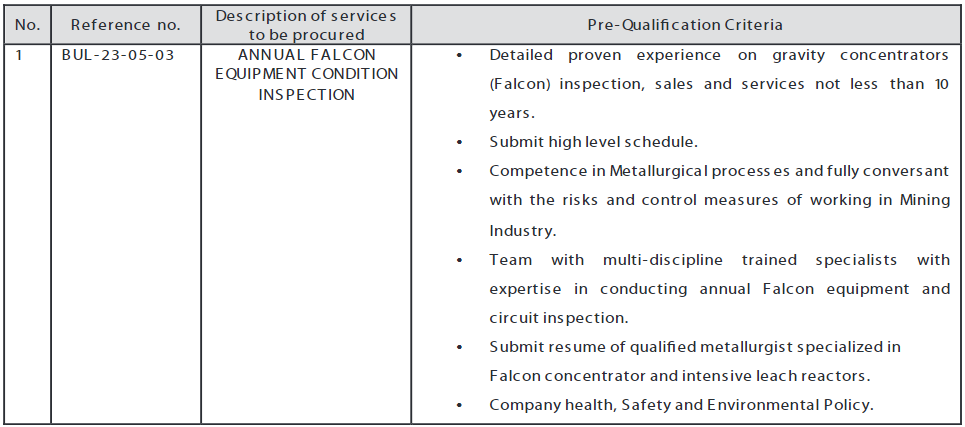 The above Services/goods are intended to be awarded through a competitive tendering process in which a restricted number of suitable pre-qualified and experienced contractors shall be invited to receive the tender documents. Please submit an "Expression of Interest" on your company's letterhead If your company qualifies as per the pre-qualification criteria together with the following additional information and/or documentation:
• Full company profile;
• Company registration documents i.e., Certificate of incorporation, Tax Clearance Certificate, etc.
• Applicable certification, accreditation, and affiliated registration
• Time frame to complete the project. (including site mobilization stage)
• Approved Local Content Plan or acknowledgment of submission from the Mining Commissioner
• BRELA detailed search certificate i.e statement indicating Tanzanian ownership percentage, Tanzanian management and below management employment percentage to determine classification as an Indigenous Tanzanian Company as per the Local Content Regulation, 2018.
Kindly send your response by email to bulytender@barrick.com by latest 1800hrs on the 16th June 2023. Any responses received after this date shall not be considered.
Please quote the above Reference number and description on your Expression of interest submission. If you do not hear from us in 21 days after the deadline date, please consider your E01 unsuccessful.
Pre-qualification of any company submitting an "Expression of Interest" shall be at the sole discretion of BGML.
For and on behalf of BULYANHULU GOLD MINE LIMITED