THE REVOLUTIONARY GOVERNMENT OF ZANZIBAR
MINISTRY OF EDUCATION AND VOCATIONAL TRAINING
SPECIFIC PROCUREMENT NOTICE
ZANZIBAR CLASROOM CONSTRUCTION PROJECT
PROPOSED CONSTRUCTION OF SCHOOLS (G+2) IN UNGUJA AND PEMBA.
Tender No: SMZ/Z.C.P/W/ICB/2022-2023/01
This Specific Procurement Notice (SPN) follows the General Procurement Notice for this
Project which appeared in Zanzibar Leo Issue No.6655 dated 18th July 2022.
The Revolutionary Government of Zanzibar has set aside funds for the operation during the
financial year 2022/2023. It is intended that part of the proceeds of the fund will be used to cover
eligible payments under the payment for which this invitation to tender is issuing for.
Ministry of Education and Vocational Training Zanzibar now invites sealed tenders from eligible
Contractors registered by Zanzibar Public Procurement and Disposal of Assets Authority thorough
(E-Proz) and registered with Contractors Registration Boards under Class one(1) for Proposed
Construction Of Schools (G+2) In Unguja And Pemba as bellow stated:
Bidders may Bid for one or several Schools, as further defined in Data Sheet of the bid document.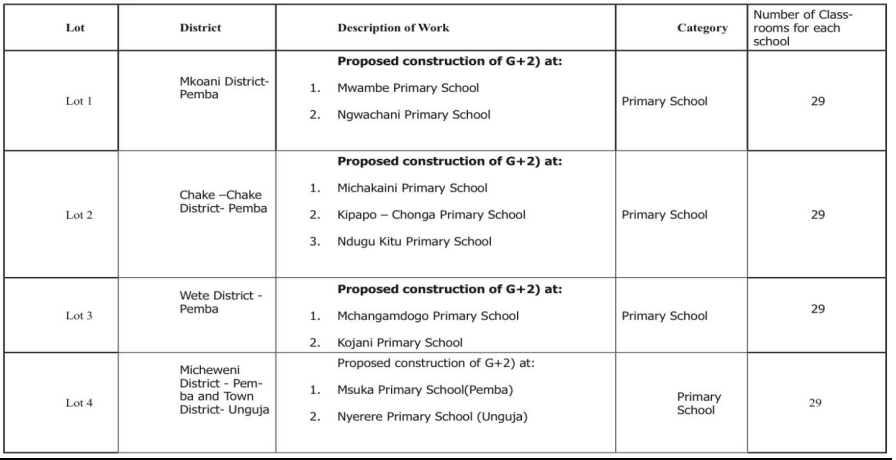 Tender will be conducted through the International Competitive Bidding (ICB) procedures
specified in the Public Procurement and Disposal of Public Assets Act No. 11 of 2016 and is open
to all eligible Bidders as defined in the Regulations unless otherwise stated in the Bid Data Sheet.
Interested eligible Bidders may obtain further information from Ministry of Education and
Vocational Training Zanzibar, at the Office of The Secretary of the Ministerial Tender Board,
Ministry of Education and Vocational Training Zanzibar, Ground Floor, Room No. 26/17 Mazzini
Street, P.O. Box 394, E-mail: pmu@moez.go.tz and inspect the bidding document during office
hours from 7:30 a.m. to 3:30 p.m. local time on Mondays to Fridays inclusive, except on public
holidays. For more information please visit https://eprocurement.zppda.go.tz/
A complete set of Bidding Document(s) in English and additional sets may be purchased by
interested Bidders on the submission of a written application to the address given under paragraph
5 above and upon payment of a non-refundable fee of Tanzanian Shillings Two hundred Thousand
Only (TZS 200,000/-). Payment should be settled through the following Account details:
All bids must be accompanied by a Bid Security in the form and amount specified in bid data
sheet or an equivalent amount in a freely convertible currency, clearly addressed to the Principal
Secretary, Ministry of Education and Vocational Training Zanzibar. The Bid Security shall be valid
for not less than twenty-eight (28) calendar-days after the bid's submission deadline.
All Bids, properly filled in, and enclosed with all necessary attachments must be submitted
online through Zanzibar Procurement Management System (E-Proz) before the deadline for
submission.
Deadline for submission shall be on 20th February 2023 at or before 10:00 local time Bids shall
be opened promptly thereafter in public and in the presence of Contractor's representatives who
choose to attend the opening at the Ministry of Education and Vocational Training Zanzibar, First
Floor Room No.37 Conference room.
Late bids, portion of bids, physical submitted bids, and bids not received on time, and opened
and read out in public at the opening ceremony shall not be considered for evaluation irrespective
of any circumstances.
Principal Secretary,
Ministry of Education and Vocational Training,
Mazizini, Airport Road
P.O Box 394, ZANZIBAR.