RFP Title: Tender for Printing and Distribution of MVC_MIS Tools
RFP Number: 2023-PACT/5/01
Date of Solicitation: June 6, 2023
Closing Date and Time: June 21, 2023, 11:00 (Dar es Salaam, Tanzania)
Questions and Clarifications: Due by June 20, 2023
Introduction to Pact and ACHIEVE Project:
Pact is an international nonprofit that works in nearly 40 countries building solutions for human
development that are evidence-based, data-driven, and owned by the communities we serve.
Founded in 1971, Pact works with partners to build resilience, improve accountability, and
strengthen knowledge and skills for sustainable social impact. Visit us at www.pactworld.org
The Adolescents and Children HIV Incidence Reduction, Empowerment, and Virus Elimination
project, or ACHIEVE, is a five-year global effort to reach and sustain HIV epidemic control among
pregnant and breastfeeding women, adolescents, infants, and children. The project is funded by the
President's Emergency Plan for AIDS Relief (PEPFAR) through the United States Agency for
International Development (USAID) and implemented by a Pact-led consortium of top global
HIV/AIDS partners, including Palladium, No Means No Worldwide, and WI-HER.
Through the ACHIEVE project, Pact Tanzania seeks to procure MVC_MIS tools to support project
implementation, data collection, and reporting for Community Case Workers who deliver services
to OVC, adolescents, and their caregivers.
Overall Objective:
The overall objective of this assignment is to procure and distribute MVC_MIS tools for
ACHIEVE project for 5 sites per the below list of tools to be used to support implementation, data
collection, and reporting of FY 2023 activities.
A. Requirement, Scope of Work, and Reporting
Description of Items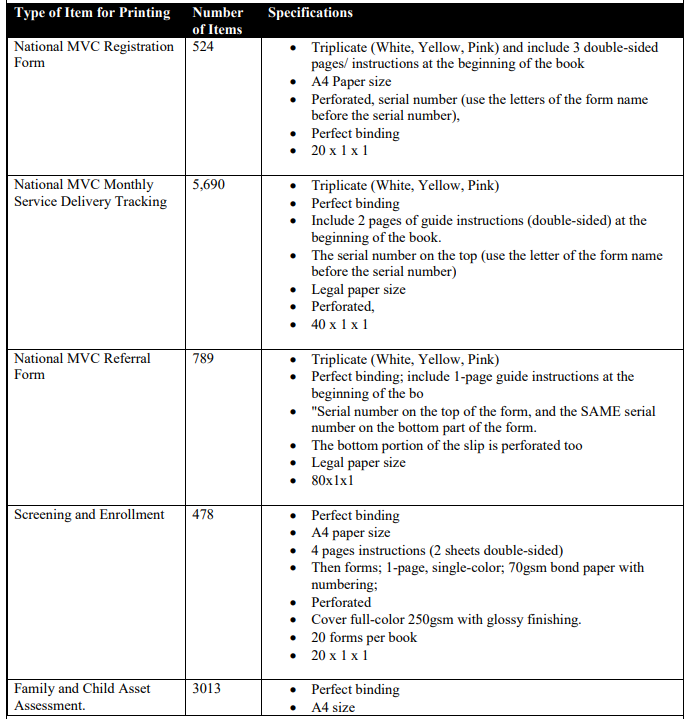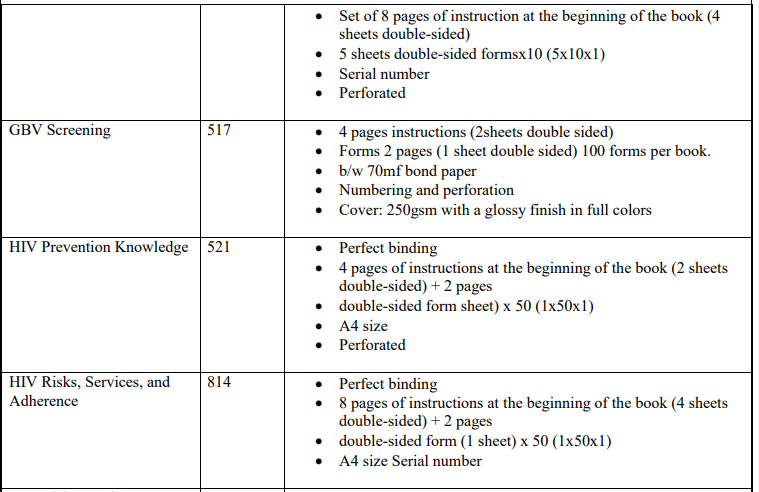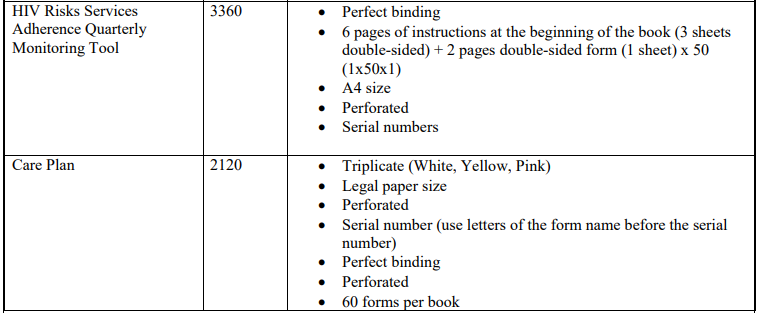 Scope of Work
Vendor to visit the Pact office to see the sample of the tools to be procured per the quality of the
materials needed.
Pact will review the samples submitted by the vendors regarding the samples Pact shared with
the vendors and select the best vendor. This applies only to shortlisted vendors.
Ensure a good arrangement of the document(s) before mass printing. This includes –
 Page set up.
 Typesetting per the standard government format (Font style, size, line spacing, etc.)
 Align, update, and format table of content against document content and PlanRep System.
 Align, update, and format a list of tables of figures.
 Insertion of appropriate logos and back page.
Obtain approval of the final arranged document(s) from Pact Tanzania in collaboration with the
Government of Tanzania (If need be) upon submission of a printed sample of the guide.
Deliver the Printed tools or guidelines to established destinations/delivery points per the
distribution list shared by Pact Tanzania.
A vendor should communicate any substantial alteration of the document to ACHIEVE-technical
team through the Pact-Procurement team.
All questions and requests for clarification should be directed to ProcurementTZ@pactworld.org
with the subject line "Request for Clarification: Printing and Distribution of MVC_MIS Tools"
before COB June 20, 2023. Reporting
The Supplier will report to HIV Integration Advisor and Senior Procurement Officer.
B. Eligibility
To be considered for the award, vendors must currently be legally operating in Tanzania, and the
quotation must include all of the following information:
 Ability to meet or exceed the requirements/technical specifications outlined in Section A;
 Ability to deliver the items/services specified in Section A no later than the date(s) required.
C. Submission Instructions
The following information is to be included by a vendor in the proposal:
 Draft inception report detailing methodology & timelines for providing printing services.
 Quote, valid for at least 90 days
 Current company profile.
 Delivery time (estimated work completion timeline after receiving an order).
 Quality of the work (measured on the sample submitted upon request).
 Copies of registration, certificate, and address of their registered office, valid business
license, VAT, TIN certificates, Tax clearance certificate, and any industry-relevant license
or certificate.
 Evidence of similar assignments and at least two (2) names and addresses of clients served.
 Current Audited financial statement for 2consecative years.
 Payment terms.
Interested bidders should submit their bids both electronically and physically to Pact Tanzania.
Electronic bids should be sent to tendertz@pactworld.org and physical submissions should be
delivered to the following address:
The Tender Committee,
Pact Tanzania,
74 Uporoto Street, Victoria
P.O.Box 6348,
Dar es Salaam, Tanzania.
tendertz@pactworld.org
Note:
Pact will open all bids on Wednesday, June 21, 2023, at 11.30 am in the presence of Bidder's
Representatives who choose to attend.
Quotes must be in Tanzanian Shilling and must include taxes separately.
Proposals must be submitted both electronically and physically to Pact Tanzania.
Quotations received after that time or at a different address may not be accepted.